"With tighter lambing, we can wean them earlier and the ewes recover body weight and condition before their next joining."
At 'Aloeburn' in the NSW Riverina, Andrew and Jodie Green run 5,000 Merino ewes and also crop as part of their pasture renovation program.
The Greens have two joinings each year to help manage cash-flow and reduce market risk. "The sheep we joined in Spring always seemed to be about 20% behind the ones joined in Autumn," says Andrew.
In 2014 the Greens tried Regulin for their Spring joining and had a 21 per cent increase in lamb numbers. This mob had caught up with those joined in Autumn! The lambs were all more even at marking and the wether lambs those ewes were ready for market earlier.
"With tighter lambing, we can better manage nutrition at times of the year when resources can be tight" adds Andrew. "We can also wean earlier, so the ewes have more time to recover body weight and condition before their next joining."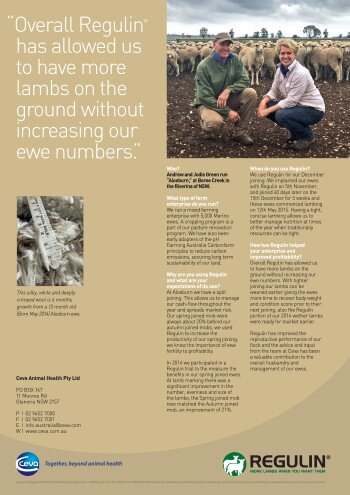 Andrew and Jodie Green