"We've had fewer dry ewes and around 20 per cent more lambs … and we turn off more lambs before Christmas."
At 'Manooka' in Mortlake in South-Western Victoria, Leigh Harry and his team run 4,000-5,000 composite breeding ewes. They aim to turn off as many high-quality lambs as possible by using peak pasture growth in Spring.
"Our wet weather suits composite ewes but their natural breeding season is March and they can still be lambing in September" says Leigh. "With the growing season cutting out early, we were running out of grass and not turning off enough lambs by Christmas."
We had to carry more lambs over the summer and finish them in their feedlot. Leigh tried joining earlier to get more lambs on the ground, but had more dry ewes and fewer lambs.
"Regulin more than pays for itself" says Leigh. "We've had fewer dry ewes and around 20 per cent more lambs. We can better time weaning to the spring pasture curve and we turn off more lambs before Christmas."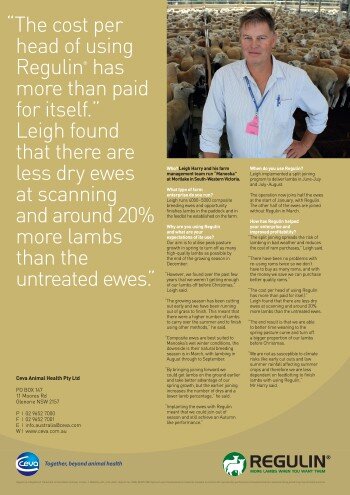 Leigh Harry