"Regulin has shortened our lambing period, which gives us more time later for other jobs."
'Tullamore Park' at Donald in the Northern Wimmera of Victoria is owned by Peter and Liz Russell.
The Russells have won major prizes at the Australian Sheep & Wool Show and Sheepvention in Hamilton. Peter was the president of the Australian Texel Stud Breeders Association from 2011-2014.
There are 200 ewes in their Texel stud and they have a commercial flock of Texel-cross sheep for prime lamb production. They also crop cereals, canola and legumes.
The Russells have used Regulin to bring their stud sheep joining forward by 2-3 weeks. This has enabled them to better manage their farm priorities. In 2014, they implanted their stud ewes and rams for a mid-February joining. The lambing result was 154 per cent.
"Regulin has shortened our lambing period, which gives us more time later to do other jobs" said Liz. "More of the ewes are cycling, so more get pregnant. In terms of growth we get a more consistent line of lambs."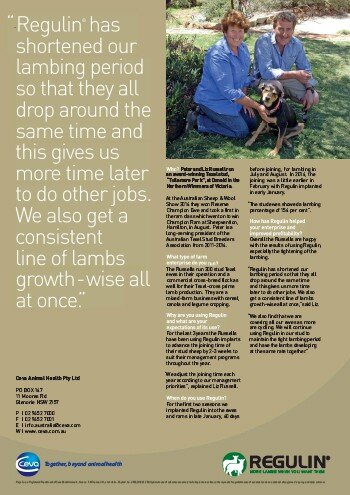 Peter and Liz Russell