"Most of the ewes are joined in the first two cycles and the number of dry ewes is down to less than 2%"
Tony Mackereth runs 'Bultara Park', a mixed-farming enterprise at Padthaway, South Australia. He runs 4,000 first-cross ewes for prime lamb production and uses maternal composite rams with White Suffolks as the terminal sire. He also crops wheat, canola and fava beans, barley and oaten hay.
Tony participated in a Regulin trial in 2014 to see if he could improve his ewes' performance. "Lambing percentage is the major component of profitability" says Tony. He was so impressed with the results he now implants Regulin in all his ewes and rams prior to joining.
"A tight lambing makes the best use of our pasture and is really great for marking, weaning and selling as one group" he added.
Recently Tony joined 1,000 ewe lambs in February after implanting with Regulin. The 117 per cent lambing result has been a real winner. This is a hard group to get into lamb, but his lambing percentage has increased by up to 25 per cent.
"We've found with Regulin, most ewes are joined in the first two cycles. The number of dry ewes is down to 1-2 per cent from around 20." Tony concludes "Regulin is the cornerstone of our lamb production enterprise."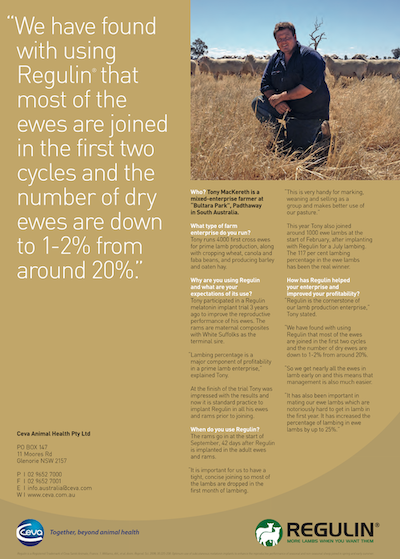 Tony Mackereth