Frequently Asked Questions
Here's a list of frequently asked questions. Please feel free to contact us for further information about your own flock or individual requirements. Our references page has a wealth of research information regarding the safety and efficacy of Regulin.
What is Regulin®?
Regulin is a melatonin implant that improves the reproductive performance of sheep in spring and early summer for increased lambing percentage.
What does Regulin do?
Regulin increases the melatonin plasma level in blood and creates the fertility response in sheep that you would normally expect in autumn.
When can I use Regulin?
It depends on the breed of your sheep but generally for Merinos you can use it from September to February. For British breeds, the earliest joining period would be mid-January. However other options may be available please contact us for advice on your particular situation.
Does Regulin have a withhold period?
No, there is no withholding period in sheep for milk, meat or offspring.
Can I just treat my rams?
While Regulin increases the reproductive performance of rams, the best results are obtained by treating ewes and rams.
Can I use Regulin on maiden and ewe lambs?
Yes, but both must be in good condition and sexually mature. A Body Condition Score > 3 is recommended.
What is the difference between Ovastim® and Regulin?
There is a detailed technical note on the difference between Regulin and Ovastim but the basic differences are Regulin is used to increase fertility in out of season joining and Ovastim works for in season and is not recommended for Merino breeds.
Can I use Regulin on lactating ewes?
Yes, but the best results will be achieved if the ewe is at least 30-40 days post-partum and has weaned the lamb prior to joining.
How do I administer Regulin and where does the implant go?
Regulin is implanted under the skin using the specially designed applicator subcutaneously, at the back of the base of the ear.
When shouldn't I use Regulin?
There is little research to show a positive return after March. We don't recommend to use when Body Condition Score is lower than 3.
Will Regulin affect the fertility of my sheep?
No. Regulin will not hide the genetic capability of ewes or have a detrimental effect on their fertility. Sheep with reproduction problems should be culled to remove them from the breeding flock.
Will Regulin induce triplets?
The normal response of Regulin is to replicate the genetic capability of the ewe. If this is a twin then she will twin, however the triplet rate of 1% of the herd number is normal in most flocks.
Does Regulin mask genetic infertility?
No. Regulin will not cure infertility.
How long does Regulin last?
Regulin releases melatonin for about 100 days.
What is the shelf-life?
Regulin is stable for 4 (four) years when stored below 25°C in air-conditioning if necessary.
Is Regulin safe?
Regulin has been used safely in sheep in European countries including Spain, Greece, Turkey and France for many years.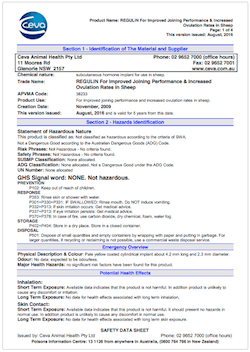 Regulin Safety Data Sheet 2016